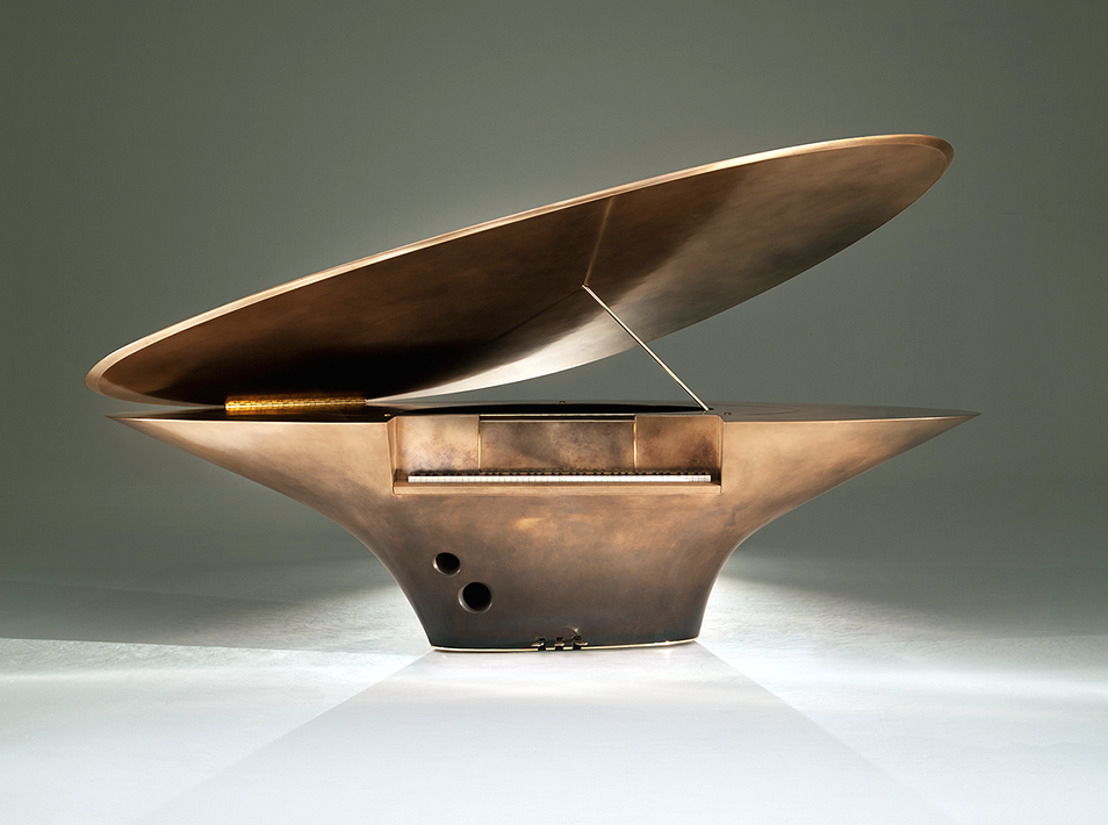 'The Baby' by Based Upon - A remarkable piano inspired by the patterns in nature
Tuesday, April 21, 2015 — The Baby by Based Upon, priced at £475,000, is a spectacular piano hand-sculpted by Based Upon (basedupon.com), a London-based artist studio, renowned for its unique and innovative contemporary British art—and fitted with a Goldfinch piano.
INSPIRED BY PATTERNS IN NATURE
The pianos form is based on the repeating spiral patterns omnipresent throughout our universe. From star-studded galaxies to the florets in a sunflower, the fluid curves of The Baby by Based Upon depict these mysterious patterns - so prevalent in nature.
It's called the Twist -  a unique Based Upon sculpture - and the result of nine years of design evolution. To date the Twist has appeared as a handful of luxury, limited edition tables and consoles and is now reimagined as an astonishing piano.
HAND-FINISHED METALS AND SEDUCTIVE RESINS
The tri-oval top elevates, appearing to twist away from its base, to reveal a baby grand piano. Exclusive hand-finished metals and seductively tactile resins reflect the artist's studies of the earth's surface—and scenes taken from outer space.
A MASTERPIECE INSIDE AND OUT
Only the finest solid spruce, from the Valle de Fiemme in the north Italian Alps, is good enough for Goldfinch master craftsmen. Using treasured, time-honoured techniques, this incredible wood is precisely engineered to create the tonal heart of every Goldfinch piano.
Every detail of a Goldfinch bespoke piano is individually handcrafted, right down to the measurement, calculation, manufacture and fitting of each of the 230 strings. There is simply no other way to achieve that rich, velvety inimitable Goldfinch tone.
Guide Price | £475,000 (excl. VAT)
-ends-
For further press information, interviews and images contact:
Tamsin Henderson | E: tam@hellogather.co.uk | T: +44 (0) 7791 006900
About Goldfinch pianos
To create your own bespoke musical artwork, contact Tomas Norman on +44 1223 881691 or email trn@1066pianos.com
Goldfinch is part of 1066 Pianos, a family-run business in Cambridge, England, which has been building some of the world's finest pianos for more than 40 years.
In 1975, when physicist and concert piano-tuner JR Norman became dismayed at the high cost and poor construction of supposedly master-built pianos, he applied his methodical mind and deep scientific rigour to the traditional art of piano making – and never looked back. Mr Norman and his family quickly became world-renowned piano makers, with Goldfinch offering customers the chance to design their dream piano. 
Goldfinch pianos are priced from £100,000 to £1,000,000. Other creations include The Leaking Piano, a 40inch work of art in Copenhagen, which appears to 'drip' over three floors; The Louis XV, a reborn Steinway piano from the late 1800s, and The Crystal piano, a Steinway studded with half a million Swarovski crystals.
About Based Upon
Based Upon is a London studio working at the front line of British creative enterprise, delivering a pioneering approach to making commissioned art-work, unique objects and design pieces.
Based Upon's creative process involves an evolving dialogue between artist and commissioning client, with each resulting work growing from an exchange of inspirations, ideas and memories to become a truly personal and inimitable legacy piece, priceless to those for whom it is made. Based Upon's own edition works explore the sublime bond between man and nature through finely crafted art works and sculptural design pieces.
Based Upon is a family company established in 2004 by twin brothers Ian and Richard Abell, who founded it on an ethos of open exploration and a commitment to continuous innovation. On this basis, over a dynamic decade, the brothers have built a rich and visionary team of 45 artists, craftspeople and designers, who work together with an international network of creative specialists to bring to life ground-breaking art and design works for clients around the world.